INTRODUCE
This tutorial will show you how to create some karaoke music videos for not only your home entertainment but for your pro "live show". You will need to use either an image or a movie clip with/without music for the background. A music sound track and lyric file (in text format) will also be used as well.
STEPS
| | |
| --- | --- |
| Click on the steps below to start | |
- Click on the
New Project
button to start a new project
- A pop-up will comes up as per below image
- Just select song you want
(2)
and click
Open
button
Wait a minute for the song to be analyzed...
- Click on the Add Lyrics button to start importing lyric file into the project
- A pop-up comes up as per below image
- Just point onto the lyric file (2) on your hard drive and click Open

- Click on the
Add Background
button and point to the background image/movie clip
(3)
- Select the image/clip
(2)
and click
Open
Note: now you can click Preview
- Click on the Settings button to open the Settings panel for Video Karaoke Maker
- Adjust the setting as you wish and click Ok to save and close Settings panel
File:
- Project file: path to your project file
- Music file: path to your imported music file
- Background file: path to your background image

Lyrics:
Duration:
- Time begin: time for the above title and artist to start displaying
- Time end: set the time point for the above title to disappear
Text:
- Title: title of the video
- Composer: where you can put your name in to mark the video as made-by-you
- Artist: showing name of the artist of original music/video clip


- To start the synchronization of your music and lyrics, you need to start playing the song first
- Then, select Synchronize entire song in Synchronize menu or just press F5 hot key.
Synchronization pane is enabled.
- Use Set button to synchronize the words of music with lyrics


Note: when you here the word in a song - just press Set button. When you do so, the words will be appearing in the wave form.

▪ Use Silent button to mark silence in the song, so that no subtitles were seen on the screen.
▪ Press Finish button after the last word of the song will be heard.
▪ Use Back button to return you synchronization backwards.
▪ You may also drag the words inside the wave chart in order to fix up the synchronization forward or backwards. - Now the program should look like below image

Note: now you can click Preview


- Click on the
Export
menu and select
Export to file
- A pop-up as per below will come up, just click
Start
to begin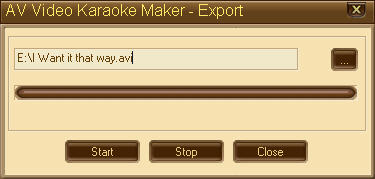 - Now you can try playing your karaoke music video with any Media Player and become the singer yourself